Treatments
Selecting the Right Type of Massage for Pain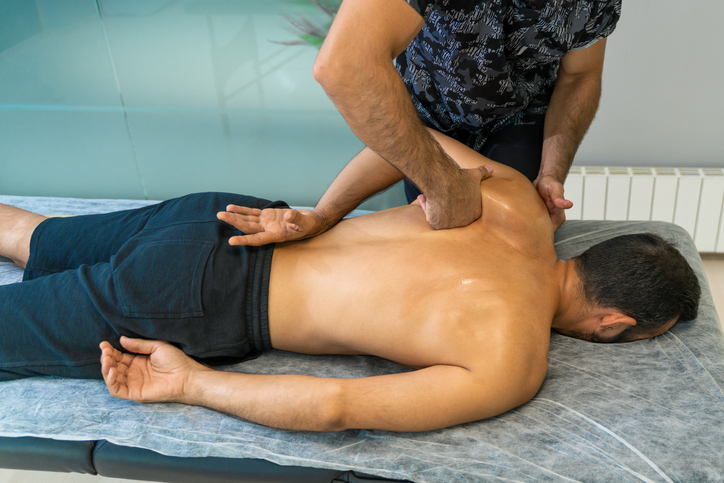 233 people found this helpful
What is massage therapy?
Massage therapy is a part of complementary and integrative medicine that can help reduce muscle tension, pain, and stress. A trained and certified health professional manipulates soft tissues, including muscles, tendons and ligaments, with varying degrees of pressure and movement to increase mobility and reduce pain.
As with any treatment, consult a health care professional to ensure a massage is safe with a diagnosed medical condition, especially if pregnant or with a cancer diagnosis. If any part of a massage is uncomfortable or painful, inform the therapist immediately. Discuss the expected outcome of the massage with the therapist. Massages can be medical or relaxation-based.
Medical Massage
A medical massage addresses an issue in the body, such as chronic migraines, injury, muscle pain, back pain, etc. The most common medical massages include the following:
Deep tissue, sports, scar tissue
Focuses on manipulation of top and deep layers of the muscles and tissues
Involves intense pressure
Helps alleviate specific concerns, such as knots or tightness
Expect some soreness following massage
Myofascial release, craniosacral, trigger-point
Manipulates connective tissues around nerves, muscles, and blood vessels
Focuses on identifying and providing a custom-based pressure, depending on sensitivity
Alleviates a specific issue, such as headaches, neck pain, neuralgia, fibromyalgia, etc.
Reduces pain in points of the muscles where knots are formed
Relaxation massage
A relaxation massage can help with providing stress relief. The most common relaxation massages include the following:
Swedish massage
Relieves stiffness and tension
Reduces anxiety and improves circulation
Soft to moderate pressure, based on preference
Hot stone massage
Stimulates nerves and enhances relaxation, typically combined with other relaxing massages
Soothes tissues and tight muscles
Promotes healing
Pregnancy massage
Soft strokes at specific locations
Reduces leg and arm swelling
Relieves muscle and joint pain
Massage technique
Hand stokes or massage techniques vary based on experience and the recommended massage needed. Techniques include the following:
Lymph drainage
Very light pressure
Slow-paced
Focuses on promoting toxin drainage
Reiki
Japanese technique
Focuses on energy flow
Involves light pressure
Why get a massage?
The benefits of massage therapy are numerous and well-studied. Massage therapy can help prevent injuries due to tight muscles. It allows for proper muscle-length and tension relations. Massages also promote the release of feel-good hormones, such as dopamine.